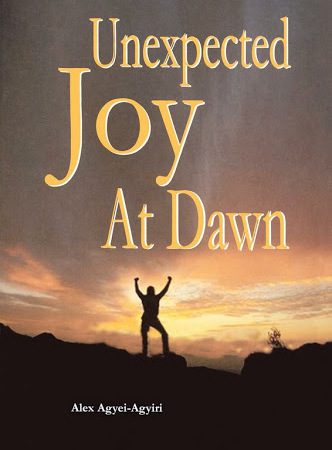 Mama Olu Orojo is one of the two protagonists in Alex Agyei-Agyiri's Unexpected Joy at Dawn. She is a Nigerian with a Ghanaian brother. She is ejected from Ghana fifteen years before the time of the novel, a country where her 'great, great grandparents' regarded as their home. She leaves behind a brother, Nii Tackie bi Akrong. When she becomes successful in Nigeria, she tries to reunite with her brother. Attempts at reunion between these two form the basis of the novel's conflict.
Mama Orojo is a successful and astute businesswoman. This is justifiably shown in her chain of companies within the space of fifteen years. She has started with petty trading. But fifteen years later, she owns a thriving construction company, 'Mama Sansi Group of Companies', and a confectionary store. Her venture into gold business also shows how much of a shrewd businesswoman she is.
Speaking of shrewdness, much of this is seen in how she bypasses custom officials at different times with smuggled money and pieces of gold and diamond. She already understands how the business terrain is run.
Her achievements within the space of fifteen years also show her resilience and commitment.
In addition, Mama Orojo is a generous woman. We see this much in her financial contributions to the Amen Kristi Church. It is apparent that her recognition in the church is due to her financial standing.
Besides, her church engagements also show that she is not only a devout Christian but also a humble woman. That she is vigorously involved in church activities despite her busy schedule, financial status, and revered position in the church and community buttresses this point. In the second chapter of the novel, we learn that the evangelical mission in Illere is Mama Orojo's sixth since her initiation into the Amen Kristi Church. Not many people of her status would have done that so seamlessly.
Read Also:
We can also not ignore the fact that Mama Orojo is a gorgeous, beautifully endowed woman. Her beauty and intelligence endears her to many male admirers. She is alluring. No wonder she literally becomes the bone of contention between Joe and Tom Monday.
In fact, Tom Monday would have proposed to her almost immediately if not for her evangelical mission. He would have many false starts while trying to write to her — an indication of his amorous advances towards Mama Orojo. We most certainly can't take away the fact that Mama Orojo is lovely and beautiful.
Mama Orojo is an all-embracing woman who does not subscribe to any tribal sentiment. This is evident in her choice of Joe over Tom Monday. She refuses to budge to the tribal-induced threats of possible excommunication from the church for her choice of partner. She definitely espouses a society that is not necessarily governed by the divides of tribes, ethnics and nationalities.
Furthermore, Mama Orojo is a simple-minded good-natured woman. This makes her appear gullible, falling into the trapdoor of an evasive con-artist like Tally O.
She is also unassuming. One could hardly tell from her conduct that she is extremely rich and successful.
She is a good friend. We see this much in her friendly relations with people. Her friendship with Ibuk strikes home this point.
Moreover, one outstanding feature or characteristic of Mama Orojo is her bravery and courage. Mama Orojo is portrayed as a courageous woman. She demonstrates this during the Sahm Brotherhood religious crisis at Egba when she saves Immigration Officer Paleo's Baby Fumi against all odds, in the unlikeliest of manners — she literally takes a jump from the burning storeyed building. This act of bravery would shoot her into limelight. She is recognised nationally for her heroism. Her heroic leap is celebrated on pages of newspapers.
Ultimately, her search for her long-separated brother shows how much she believes in kinship and family ties. The journeys to and through Ghana reunite her with her past, acquaint her with the details of her brother's life in the last fifteen years. She also meets her heartthrob and begins a gold-smuggling business.
In her own right, she is a true definition of a strong unwavering African woman. While she is not as political as Massa Awosika, her position on ethnical matters however deducibly makes her a pan-African. Her position is somehow in consonance with Massa's that anywhere in Africa where one lives is one's home.
It is purely coincidental that Mama Olu Orojo would be the one to see to the burial rites and interment of Massa Awosika, another strong-willed woman and fellow pan-African.
Further Reading: