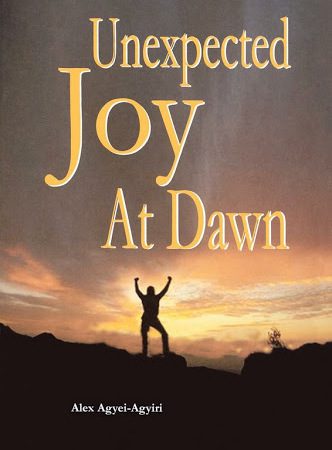 Unexpected Joy at Dawn is one of the two African prose recommended for students of Literature-in-English in Senior Secondary School.
Unexpected Joy at Dawn is a tale of two countries, their slightly different administrations, policies and the stringent hold they had on the citizens of both countries. It narrates the stories of two siblings, Mama Orojo and Nii Tackie, both separated by their surrounding circumstances and the unrelenting struggle to reunite, which births the entire story.
The novel is set concurrently in two West African countries: Mama Orojo's exploits and actions in Nigeria and Ghana; and Moses Nii Tackie Bi Akrong Na Bii's actions and inactions in Ghana and later, Nigeria.
Nii Tackie overworks himself to make ends meet. He is the Assistant Bank Manager of Expense Bank, the secretary of Suso Credit Union and a teacher in a Remedial School.
Mama Orojo is a successful businesswoman and a staunch member of the Amen Kristi Church. She has a lot of business investments and needs a man to oversee them. She is beautiful much so that Tom Monday and Joe are captivated by her beauty.
Nii Tackie's ailing wife, Massa, symbolises the current state of Ghana, its falling structures, its degradation, its dearth of expertise, the self-righteous revolutionaries and the failing economy. In her twenties, the sickness has given her the appearance of an emaciated old woman. Same can be said of Ghana, still in its twenties after independence.
Mama's Nigeria is obviously under the democratic regime of Alhaji Shehu Shagari when illegal immigrants, chiefly Ghanaians, were thrown out of the country in large numbers. From Nii Tackie's viewpoint, this is a payback for a similar thing Ghana did some fifteen years before when he became separated from his family.
Nii Tackie is neck-deep in identity crisis. In Ghana, he is considered an alien on the basis of his tribal marks, even though he was born and raised there and has the composure of an educated Ghanaian. His boss, the bank manager, and his junior at work, Linda both acknowledge him as a Nigerian. Later, when he comes to Nigeria in search of his sister, he finds it difficult to establish himself as a Nigerian. Fine, he supposedly bears the tribal marks relatively peculiar to Nigeria but his inability to speak any Nigerian language lands him on a wrong footing with the immigration officers and soldiers. Then, his Ghanaian gentleman composure is not erasable. Thus, in Ghana, he is a Nigerian and in Nigeria, he is an illegal Ghanaian immigrant. In between these two identities, we may say he is a Ghanerian – a blend of Ghanaian and Nigerian. Humorous, isn't it?
Tally O is a mystifying, yet interesting character. A friend of Joe, he is the elusive and the wanted "I-put-it-to-me" in the text. He dupes Mama Orojo on her first flight to Ghana. He is also the reason for the endless searches the proprietor of Beyees Restaurant is made to go throus by law enforcement agents. He is a man of numerous identities. His identity is demystified after his gruesome death.
This is how much we can take in this post.