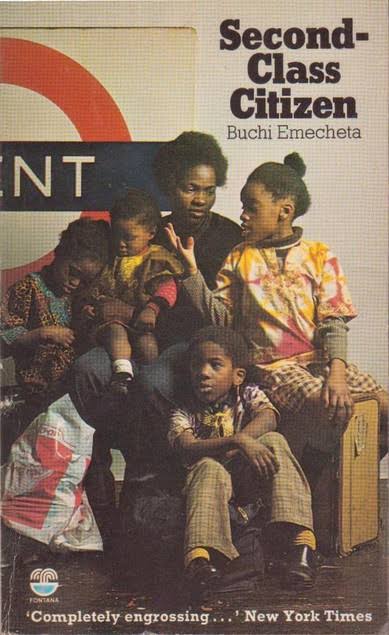 Autobiographical novel as a term is a combination of two words: autobiographical and novel. An autobiography is a person's life history written by that same person.
A novel on the other hand is an extended fictional narrative in prose form. It is usually in the form of a story. The novel is formed or conceived by imagination and is not necessarily based on facts.
An autobiographical novel is therefore a literary text written by an author about a part of or some events in their life with a little touch of imagination to address an issue or drive home a message. In other words, an autobiographical novel is a meeting point between fiction and nonfiction.
Second Class Citizen by Buchi Emecheta is in actual fact an autobiographical novel. Its protagonist heroine, Adah, has a lot of things in common with the author that upon a closer scrutiny, one is bound to come to the conclusion that Adah is Buchi and Buchi is Adah.
Buchi uses Adah as a fictional medium to express her own struggles in a vastly patriarchal society. Through the character of Adah, Emecheta presented the things she experienced while growing up in Nigeria and her marital issues while in England.
Every detail about Adah up to her estrangement with her husband in the novel matches the author's life experiences. These shared experiences go beyond mere coincidences and casual inputs. They firmly establish the notion that Second Class Citizen is an autobiographical novel.
Firstly, like her character, Florence Onyebuchi Emecheta, was born in Lagos. Her parents were from Ibuza in the present day Delta State. Ibuza, if I may remind you, is the same place painted utopian in contrast to the rowdy multiethnic Lagos in the first chapter of the novel. While Adah is unsure of her actual age, she is well aware that she was born late during World War II. This period coincides with 1944 when Buchi Emecheta was born.
Secondly, Buchi's primary and post-primary school details match those of Adah. Buchi Emecheta attended Ladi-Lak School before switching to Reagan Memorial Baptist School where she completed her primary school education. In the novel too, Adah is enrolled in Ladi-Lak Institute after her fight for a chance at education. After the death of her father, Adah is enrolled in a much cheaper school whose name is not explicitly stated. In the same way as Adah, Buchi Emecheta proceeded to Methodist Girls' High School, Lagos on scholarship.
Thirdly, Buchi also worked in the American Embassy in Lagos for two years. She was married all this time. She joined her husband, Nduka Sylvester Onwordi, who was studying for a degree in accountancy in London. This is in no way different from Adah's post-secondary school timeline. Adah marries after secondary school. She gets a well-paying job in the American Embassy and helps her husband, Francis, travel to London to further his education. Adah would later join her husband in England. It is beyond coincidence that Buchi's Nduka and Adah's Francis both study accountancy in London.
Like Buchi who would set her pace as Africa's most prolific female writer with up to nineteen published books to her name, Adah longs to be a writer. Her manuscript is torn by her husband, Francis, in sheer envy. Buchi's husband also tore her manuscript. What's more? Buchi Emecheta had five issues from her marriage before it dissolved. Marriage dissolution is another thing the author and the character have in common.
Without any iota of doubt, matching these details together, it is obvious that Buchi in the biblical way created Adah in her own image. She bathes her in her own tub of experiences. Buchi, while mirroring her experiences, uses Adah as the voice of the women and girl child experiences of the time in Nigeria and elsewhere.
Buchi shed light on what growing up as a girl felt like and how she had to fight for her place in a social sphere that had set for her a roll of roles it thought was best for people of her gender.