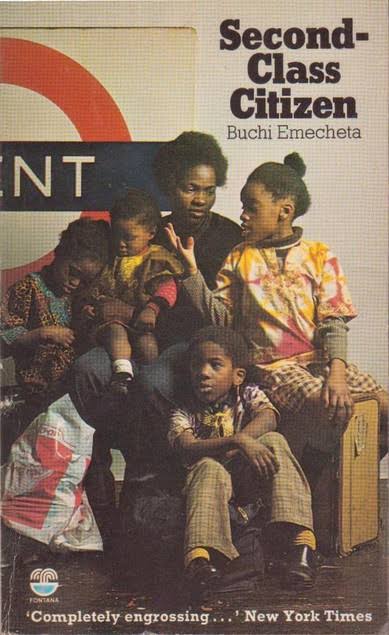 Consider in detail Second-Class Citizen as a woman's ideological statement in the female condition.
The events that manifest as the plot reality of the traditional shortcoming of gender inequality in the African society is vividly explored in Emecheta's Second-Class Citizen. But this is not limited to the African society in the condition of female subjugation as it varies from place to place and has necessitated a universal and widespread emotional concern for the enormity of womanhood which is so much undermined.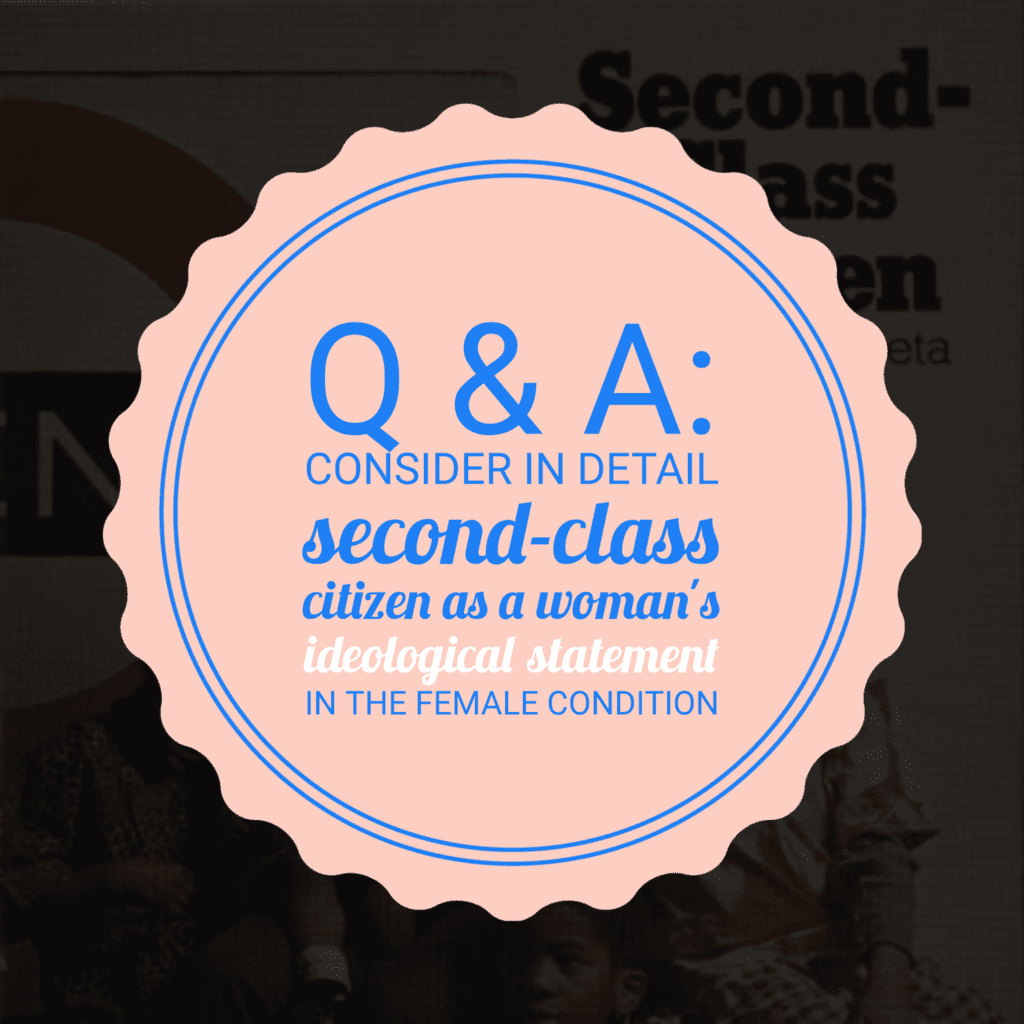 Various writers within Africa and beyond have expressed this female condition in their feminist texts. Mariama Ba's So Long a Letter, Chimamanda Ngozi Adiche's Purple Hibiscus and many others are good examples to cite. In other words, Second-Class Citizen appears as a phrase that summarizes this treatment using Adah, the protagonist as an archetype.
In the novel, Adah's aspiration, and the tenacity with which she approaches it show that the female gender is not the least a dreamer. This is a particular characteristic of gender inequality addressed in the novel. It posits that the fruition that comes with being educated is not limited to the male gender, which Adah's Pa and Ma do not see her a match for, investing all productive efforts in Boy.
Her mother thinks all she needs to know is how to read and write, then learn to sew. This satirises the way the African mentality is conditioned to believe that is all there is for womanhood. Therefore, Adah's optimism as skillfully manifested in her characterization even as a girl child becomes the author's counterpoint in a belligerent depiction.
Adah struggles through her education. But this is in a heroic depiction of how she is bent on proving her inherent right to live as a human indeed and not a woman who will be commodified or relegated to a children's nanny without a dream for herself. This dream gives way to a contrivance to escape the servitude she suffers in the hands of her maternal relation following the death of her parents. Her consanguinity is non the better. She resorts to getting married; perhaps her hope will be sustained because at this time she is barely out of her teenagehood, and marries Francis.
Again, her marriage becomes a continuum of her hapless circumstance, leaving her helpless. Francis is irresponsibility personified who also falls short of the African man's amour propre – a failed husband at that.
At this point, the author bears on a situational irony to foreground the dignity and strength of a woman which the gender superiority criticised in the novel does not give thought to. Adah's hard work towards building her family irrespective of the husband's negligence elicits the psychological and moral strength of the African woman which is not deterred by any physical abuse or ill treatment by her husband.
Her hardwork is further portrayed in how she makes provision for her husband's wellbeing and academic career as the bread winner of the family. She does all this in so deep an anguish that is only heard by the Presence. This depicts how Adah's condition is worsened by the twin factors of her parental inconsideration and a failed marriage.
Still, Adah is intransigent in her situation. Of course, so is every woman represented in Adah's fortitude. She is also enslaved in her independence when her family moves to England. She continues being Francis' sponsor and the family's bread winner – worse than it was in Nigeria. She faces her work as a librarian and lives above the limitations of racism by exercising deep endurance even though she carries one pregnancy after the other. She becomes Francis' sex toy whereas Francis does not take his academic career as serious as he should.
Adah faces a streak of adverse situations: from unsettled marriage to premature motherhood to a taxing bread winning responsibility as if it were a comeuppance of some sort. Whichever way, the reader will almost empathize with her in the derailing condition in which she holds herself to an unexpected end. She divorces Francis as the best solution to her unsolicited suffering.
To this end, the author explores the events voyaging a trampled motherhood and womanhood in Africa and other places in the world where feminist concern is this sine que non to achieving gender equality if the woman will be liberated.