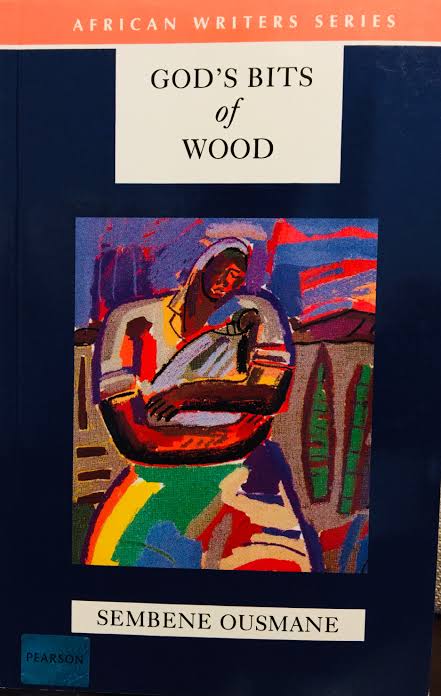 Ibrahim Bakayoko
He is the main character of the novel. One of the ringleaders of the strike, he is obviously their best orator. He works as a conductor at the station. Husband of Assitan, step-father of Ad'jibid'ji, son of Mamadou Keita and Niakoro. His name is mentioned in almost every scene. Evidence of this is when Beaugosse, Bakayoko's rival concerning N'Deye Touti, the belle, says, "Bakayoko, Bakayoko!… All day long I hear nothing but that name— as if he were some king or prophet!"
I see him as a representation of the author himself. Anyone familiar with the personality of Ousmane Sembene will see similarities between him and Bakayoko. He reads anti-colonisation books and encourages other to. His oratory spurs the people to go on a general strike in support of the railmen. The conflict in him lies in that despite his Pan-African stance, he objects to polygyny. Maybe this is why he refuses to marry N'Deye Touti when she offers herself to him.
Ramatoulaye
She is one of the Moremis of the struggle. She adapts well to the role of breadwinner. She combs the whole town of Thiès for food and water to feed the members of her extended family. Her brother, El Hadji Mabigué, who is the chief of the district is on the side of the toubabs and he refuses to help. His imposing castrated pet ram, Vendredi, enters Ramatoulaye's family house and eats their food. Ramatoulaye slaughters it; food for everybody. This leads to trouble with the police. Some people die. After some fight, she surrenders herself and is taken to the police station. Here again, due to the people's refusal to abandon Ramatoulaye at the police station, another person is killed. Here is what the narrator says about her: "She knew everyone by their first names and family names; she knew all of their relatives… for generations back. She was… a walking encyclopedia…"
Monsieur Dejean
He is the regional director of the railway company. That makes him one of the chief antagonists. He was at first a clerk who came to Africa for golden fleece. He was one of the few Europeans who remained in the colony for long so he rose quickly. In 1938, he quelled an attempt of the workers to go on strike. He believes that Africans are children who are "rotten with pride". His savagery shows in how he cut off basic provisions from the Africans. When the company agrees to satisfy the demands of the strikers, they request that Dejean be transferred away before they resume work. And he is transferred.
N'Deye Touti
She is a beautiful young lady from Ramatoulaye's compound who subscribes to French culture at first. Beaugosse, her topmost courter, shares similar views. But as the story progresses, she sees things in a different light and she begins to drift more towards African culture. She falls in love with Bakayoko, to Beaugosse's consternation. Sadly though, Bakayoko does not requite her love. This rejection makes her more grounded in African culture.
Tiémoko
Tiémoko is another character that develops as the story goes on. He is Bakayoko's close friend. He is described as a thirty year old colossus. His manners are rough and his support of the strike is unwavering. He is the official record-keeper of the strike committee. His voice is the most critical when they decide whether to punish Diara, a renegade who went back to work behind their backs, or not. Ad'jibid'ji, Bakayoko's adopted daughter, does not like him because of his rough manners. However, she admits that he sings nicely. At Bakayoko's prompting, he reads some of Bakayoko's books for self-development although he finds it hard to understand. When the strike is called off, he is the first person to drive a train; a twenty-hour journey from Bamako to Thiès.
---
There are many other characters in Ousmane Sembène's God's Bits of Wood. There is Maimouna, the blind woman, Dieynaba, Samba N'Doulougou,the station gazette, Mamadou Keita, Ad'jibid'ji, Doudou, Beaugosse, Lahbib, Isnard and so on. But we will stop here to save space. Do try to read the book to meet the many other interesting characters.