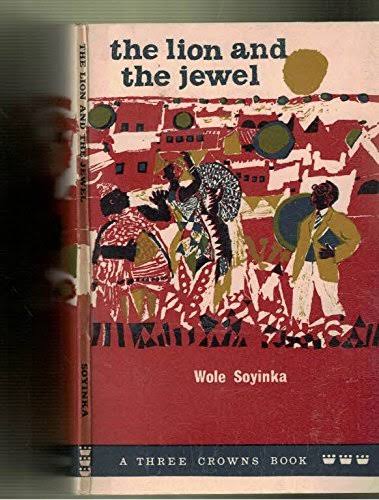 Examine the theme of love and marriage in the play.
The Lion and the Jewel, in its treatment of the conflict/clash of values, explores prominently the theme of love and marriage as a spectacle of the author's treatment of reality. The play centring on the 'struggle' between Baroka and Lakunle for Sidi implicitly addresses the notion about marriage within the look of tradition.
The idea of love and marriage, we see, thus facilitates the resolution of the (main) conflict in the plot.
On the one hand, Lakunle's westernised belief is refuted by the high-handedness of cultural marriage values. He must abide by the dictate of the existing tradition if he wants to marry Sidi. But he debases this with his 'alien' values.
Love means the payment of bride price and vice versa. In the argument that ensues between Lakunle and Sidi, the latter emphasises that if she marries without her bride price paid, then she marries cheap, and such is never befitting. She tries to convince Lakunle to her claims. Also, that he loves her does not – and will not – change the traditional belief.
We begin to see the definition of love in the African marriage setting: that a woman is with more than the man's professing of love without action; that bride price is an inseparable part of marriage custom. A compulsory step at that. Since Lakunle disbelieves this, then his acclaimed love for Sidi is not genuine and marriage cannot happen. The author shows: African marriage custom demands, above all, that bride price be paid, which is the proof of love.
On the other hand, the author uses irony to show the condition for marriage in the African setting: Baroka who is ready to pay the bride price owns the bride. Although this happens in an obscene manner, love is portrayed as the readiness to marry a woman according to the standard of tradition.
Sidi eventually unarguably belongs to Baroka who cunningly takes her virginity. This brings to the fore the ribaldry common in the African society, especially among the traditional elites, which precipitates marriage, as seen in how Baroka gets Sidi as wife. While Lakunle's love for Sidi is true and genuine, Baroka's is ribald and borne by his influence. Baroka proves his 'love' to Sidi by marrying her as custom demands; Lakunle fouls up his chance by countering that with his civilisation. Although Sidi could have accepted Lakunle's marriage proposal, she is obliged to marry Baroka who does the right thing.
To the trio of Lakunle, Sidi and Baroka in the love triangle, love and marriage are understood differently. To Lakunle, it is the outlook of civilisation; to Sidi, the payment of bride price; to Baroka, the possibility of influence. Soyinka bears on these differences to bring the play to resolution. He explores love and marriage as an instrumental force in highlighting his subject matter.