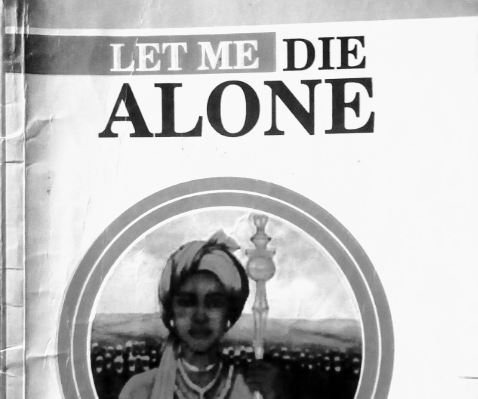 Hi guys, we've compiled the list of characters in Let Me Die Alone and given brief details about each of the characters. Enjoy!
1. Gbanya: He is the chief of Mendeland at the beginning of the play. He is a polygamist. He reneges on his promise to appoint Yoko as his successor. He is humiliated by the colonial governor, for siding with a white brother against the other in an all-white war. He is eventually poisoned by his trusted subordinates, Lamboi and Musa. While in his death throes, he entrusts his throne to Yoko.
2. Yoko: She is one of Gbanya's numerous wives. She is a barren woman. She is Gbanya's favourite wife and successor. During her time as the chief, there is a change in the seat of capital from Senehun Village to Moyamba Village. She also expands her chiefdom with the consent of the colonial governor.

She is betrayed by Lamboi and Musa who lied to her subjects that she killed Jeneba in order to win Dr Rowe's favour. Thus, she is humiliated and disgraced by her people. She later commits suicide after unravelling mystery in the Poro Bush.

3. Lamboi: He is one of the two conspirators in the play. He is the brains behind the deaths of Gbanya and Jeneba. He indicts Yoko for killing Jeneba after the latter foiled his attempt to become the king. He flees when his secret comes open.
4. Musa: Musa is the chief priest of Mendeland. Together with Lamboi, he kills Gbanya and Jeneba to help Lamboi become the chief. He secretly involves himself in different human sacrifices for longevity and prosperity. He flees when Yoko uncovers his noxious deeds in Poro Bush.

5. Ndapi: He is the chief warrior of Mendeland, husband to Jilo and father to Jeneba. He ill-treats his wife. He also ridicules Yoko over the hearsay that she killed his daughter. He later apologises to Yoko after the mutilated body of his daughter was unearthed.

6. Jilo: She is Ndapi's wife and Jeneba's mother. She is unfaithful to her husband.

7. Jeneba: She is Ndapi and Jilo's daughter. She frequents the palace. She is Yoko's foster child. Jeneba reports the domestic violence of her parents to Yoko. She meets her cruel demise in the hands of Lamboi and Musa.

8. Dr Rowe: He is the colonial governor who humiliated Gbanya and betrayed Yoko.