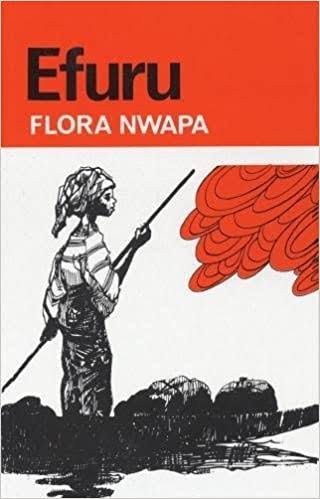 Some of the characters in Flora Nwapa's Efuru include Efuru, Ajanupu, Adizua, Gilbert, Ossai, Nwosu, Nwabata, Omirima, Ogea, Nkoyeni, and Nwashike Ogene.
These characters are discussed below.
Efuru
Efuru is the protagonist heroine in the Flora Nwapa's novel. An eponymous character, the title of the novel is named after her.
She is the daughter of Nwashike Ogene who runs away with a poor unknown man, Adizua. Her mother had died five years before this story.
Efuru's doom begins when she loses her only daughter, Ogonim. She witnesses the collapse of two different marriages before she finally recedes to her fate. She becomes the worshipper of the woman of the lake.
Efuru is however blessed with beauty and richness even though she cannot bear a child. Why the women still worship the woman of the lake bemuses because she is barren so as her worshippers.
Ajanupu
She is the elder sister of Ossai. She is invariably strict and traditionally inclined. She scolds her sister for marrying Adizua's father and wouldn't forgive Ossai for her quietness over Adizua's waywardness.
She relentlessly stays with Efuru even after she divorces Adizua. She breaks pestle on Gilbert's head when Efuru is allegedly promulgated as an adulterous woman.
Adizua
He is the perversive poor farmer whose waywardness is believed to have been inherited from his late father. He is the first husband of Efuru and deserts her afterwards. His whereabouts is mislaid on the terra firma of Ndoni.
Gilbert
He was originally named Eneberi but got influenced by Western colonialism fallout; now called Gilbert, a British name.
Gilbert is the only son of Amede and the second husband of Efuru. He subsequently becomes a polygynist by fate.
He marries Nkoyeni and has a son outside. Gilbert is guilty of inebriation.
He gets arrested for more than a month when he goes out to trade at the Great River without the cognizance of his family. He refuses to tell them the reason why he was arrested.
Gilbert is advised to take another wife to serve as a foil to Nkoyeni's obstinacy and threaten her into submission. He doesn't attend his father-in-laws' burial, inadvertently. He loves Efuru but follows the public to accuse her of adultery which leads to pandemonium between herself and Ajanupu.
Ossai
Ossai is the mother of Adizua who is depressed after her son deserts his wife, Efuru. Ossai is scolded by her elder sister, Ajanupu when she wanted to marry Adizua's father and also gets scolded when Adizua absconds home. Ossai's misery is traced back to Adizua's father.
Nwosu
He is the father of Ogea, Efuru's maid. He gives his daughter out in order to borrow money.
Nwosu's poverty had begun since he was young when he wanted to marry Nwabata. He was forbidden from marrying Nwabata but ended up marrying her.
Nwosu is held by serious sickness and gets cured through Efuru's doctor.
Nwosu is pressurized by his age-group to go for title instead of paying the money he owes Efuru.
Nwabata
Nwabata is the fateful wife of Nwosu. She is frustrated by Nwosu's nonchalance about their debt.
Nwabata is a primitive woman. She is incredulous about surgical operation; therefore refusing her husband the modern medical treatment. But she prefers injection. Nwabata is robbed following the ten pounds given by Efuru.
Omirima
Omirima is the gossip in the story and Amede's friend and the brain behind the allegation of Efuru's adultery.
Omirima does kindle the fire of malice. She advices Amede to start acting queer to Efuru. She forbids the couple (Gilbert and Efuru) walking together to the stream and in the vicinity. She is hated by Ogea because of her spitefulness.
Ogea
She is the pawn of a trade by barter initiated by her father.
Her father exchanges her for money to establish his farming and cater for the family. Ogea is too young to understand her father's plight.
She begins acting strange at Efuru's house until she is scolded. She subsequently loves Efuru like her mother and becomes the last wife of Gilbert to serve as a threat to Nkoyeni.
Nkoyeni
She is the second wife of Gilbert. She is married to Gilbert when Efuru does not bear child after a long time the latter has been in the marriage.
Nkoyeni is so stubborn that her attitude becomes irritating to Efuru and Gilbert. She hears a rumour that her husband was arrested at the Great River and hence starts acting strange.
She sends Gilbert's son that was born outside away when he is brought back home by his uncle. She calls the child a bastard. She later has a rival to quench her arrogance.
Nwashike Ogene
He is the father of Efuru. He had an encounter with the white colonialists who exchanged their cannons, hot drinks and cheap ornaments for black slaves. Ogene is the one who takes Efuru to the dibia that dies on the day Efuru is told to come for the clarification of the mysterious omen. Ogene dies honourably.
---
Other characters in Efuru include Dibia, Sunday (Gilbert's friend), Dr Difu (Efuru's friend), Difu (Ajanupu's daughter), Ogonim (Efuru's dead son), Nnona, Dr Uzaru, the woman of the lake, and Ekene.
Read Also: